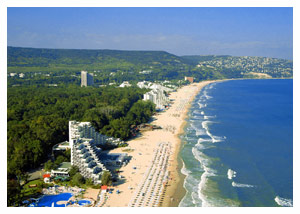 ALBENA is situated at the very beach and at the picturesque hills with exciting views of the sea and the "Baltata" National Reserve. The resort's errection was started in 1968, which makes it one of the most modern holiday resorts along the Bulgarian coast. The complex lies beneath a relatively high hill and it is given particular charm by the near-by forest of Baltata, a part of which is declared a protected area. The later is also called Batova Gora (Batova Forest) after the Batova river, in the valley of which it grows. The resort's architecture resembles one of Walter Gropius' urban models as most of the hotels have a terraced structure aimed at providing as much sun as possible in summer days. To the north the coast is steep, featuring yellow sandstone and limestone typical of the area. It is in fact this stone slope that was the main source of construction material for the resort.
The resort was given its present-day name by Albena, a female protagonist of the great Bulgarian writer Yordan Yovkov, gifted with extraordinary beauty. Nearby is the village of Obrochishte with its well-preserved fortress dating back to Ottoman times. The village of Kranevo that still has the remains of an ancient fortress used in Roman times and the Middle Ages is also located close to the Albena resort. Kranevo is also appealing for its mineral springs. The coast between Albena and Kranevo is high and extremely picturesque with steep rocky formations.
Albena has more than 100 catering establishments, ranging from top class restaurants to fast food outlets, small cosy spots right on the shore, bars and discos, restaurants with night shows, taverns and folk-style places, Chinese and Indian cuisine, to suit any taste and pocket. Varied cultural programs - International Children's Fest, Golden Antenna Festival of Musical and Entertainment TV Programs, Pop-Rock Festival, Coast of Hope Festival , a folk festival for singers and dancers from the Dobroudzha region and a beach volleyball competition are being held annually in the region. There is also a rally called Albena that is held every year at the beginning of May.
The holiday city has a number of tennis courts, a casino, children playgrounds, swimming pools, and a golf playground ideal for all the family. You can also rent many means of transport including bikes, cars, cutters, sailboats, yachts, waterwheels and jets or even try horse riding. There is a whole range of water sport facilities is on offer with instructors available for those who need it.
Albena is one of the smaller resorts on the Black Sea and has a definite "up-market" feel when compared to Sunny Beach and Golden Sands the more well known and popular. It allows only very restricted development and thus exudes an air of exclusivity. It is more of a family-friendly resort, though it is probably not really suited for party animals, as most of the bars are closed by midnight. It is also a BLUE FLAG winning resort, located in a scenic and ecologically clean gulf on the Bulgarian Black Sea coast, famous for its flower gardens.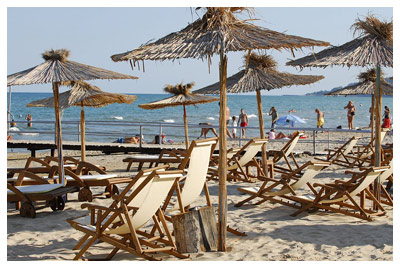 Time:
Greenwich time + 2 hours, Central European Time + 1 hour
Electricity:
220 V., 50 Hz.
Passports & Visas:
No visas are required for the citizens of European Union and EFTA member countries to enter Bulgaria.
Post Office:
You may drop your post cards and letters at the Reception desk or put them in the post boxes in the resort. Albena's Post Office is situated in the central area.
Banks:
Banks are opened Monday to Friday, from 9 a.m. to 3 p.m. You will need your passport for cashing cheques or exchanging currency. There are also ATMs at some of the Albena hotels.
Credit Cards:
The main international credit cards are accepted at the big hotels, shopping centers, the car hire offices and some restaurants. The stickers on the shop-windows or at the hotel entrances will provide you with information as to which credit cards are accepted.
Money:
The Bulgarian LEV consists of 100 stotinki. All payments should be made in the national currency. There are bank notes of 1, 2, 5, 10, 20 and 50 Lev, and coins of 1, 2, 5, 10, 20 and 50 stotinki.
The exchange rate is fixed at 1 Lev = 1.95538 Euro. It is advisable the exchange of foreign currency to be made at change bureaus or at a bank.
Pharmacy:
Usually is open from 8 a.m. to 8 p.m. There is also a 24-hour pharmacy. You will be provided with more detailed information at the reception desk.
Water:
Tap water is chlorinated but completely suitable to drink. Still, it is advisable to drink bottled mineral water.
Beach:
All beaches are free. You will only be charged for using deckchairs and parasols.
Population:
The population of Bulgaria is about 8 000 000 people, 1 150 000 million live in the capital- Sofia, and 450 000 people live in the sea capital – Varna.
Official Language:
Bulgarian, belonging to the Slavonic language group.
Religion:
Majority - Eastern Orthodox; other - Catholicism, Judaism, Islam, etc.
Official Holidays
1 January - New year's Day
3 March – The National Holiday
1 May - Labor Day
6 May - St. George's Day
24 May - Cyrillic Alphabet and Slavonic Culture Day
6 September - Union Day
22 September - Independence Day
1 November – Day of the National Leaders
24, 25 December - Christmas
Safe:
It is recommended to keep valuables and documents in a safe. In case of any loss or theft, please approach the police. When going to the beach you are advised not to take documents, money or valuables with you.
Restaurants:
The menu includes mostly dishes of both the Bulgarian and the European cuisine. Restaurants are usually open from 07.30 a.m. to 10.00 p.m. Some of them may be open as long as there are guests.
Shops:
Shops in the resort are open every day, including Saturday and Sunday. They work from 9 a.m. till 9 p.m.
from http://albena.bg