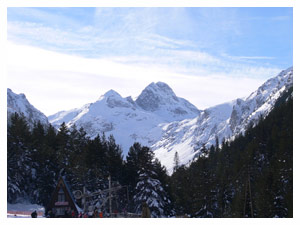 "Legend has it that when God was giving lands to the peoples of the world he forgot the Bulgarians. To set things right he took a piece of Heaven and gave it to them."
Bulgaria sits at the crossroads of Europe and Asia, right in the belly of the Balkans. Bulgaria resembles a miniature continent in miniature because of its varied relief and miraculous working of nature. Lying in the Northeastern part of the Balkan Peninsula, Bulgaria boasts a vibrant 1,300 year history and over the centuries has been an important crossroad between Europe and Asia. The country's total territory is 111,000 sq. km. It has a 378 km borderline with the Black Sea to the east. Bulgaria also neighbors Macedonia and Serbia and Montenegro to the west, Romania to the north and Greece and Turkey to the south.
Bulgaria's varied relief ranges in altitude from 0 to 2,925 m. Its territory includes part of the lower Danube Plain, The Balkan Range – part of the Alpine-and-Himalayan chain, part of the Thracian lowland and to the south – the mountain structures of the Macedonian-Thracian massif. The predominant climate in Bulgaria is moderate and transitional continental with plenty of sunlight days per year. There are four seasons, with warm summer and snowy winter. The average yearly temperature is 10.5 °C.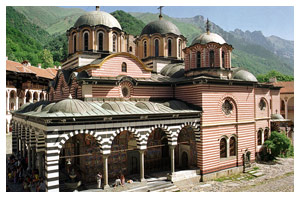 Bulgaria is rich in beautiful diverse landscapes and is full of surprises, with long sandy beaches, green fertile valleys, wild mountain ranges, rivers, gorges, and natural springs. Summers are long and warm with rich colors and scents of the fields and harvests of organic fruits and vegetables. The fine white sand beaches are extensive and surrounded by rocky coves and inlets encompassing the idyllic serene waters of the Black Sea. Much The sea itself is non-tidal, less salty and warmer than the Mediterranean. The winters are full of deep natural snow, making it a wonderland for winter vacations with skiing in the mountains, relaxing by roaring log fires, or strolling through snow filled pine forests.
Bulgaria is an interesting and intriguing experience for anyone: for those who love the warm southern sea or snow-covered slopes, for those who want to see its cultural and historic monuments, or for those who wish to delight in its unique and living folklore. Young people fond of sports, families with children, retirees, and everyone else who is seeking a carefree holiday can find activities that suit their needs. In short, Bulgaria has something for everyone in the form of an all year round unspoiled playground ready to be discovered by those adventurous in spirit, but not wanting to stray too far from the central hub of Europe.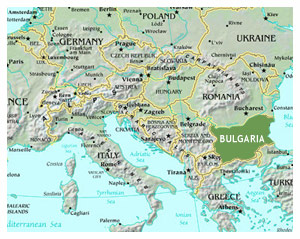 POPULATION:
Over 7.8 million inhabitants
LAND AREA:
111,000 sq km
CAPITAL:
Sofia (pop. 1,250,000)
LARGE CITIES:
Plovdiv, Varna, and Veliko Turnovo
RELIGION:
Eastern Orthodox. The Bulgarian Church is autonomous and headed by a Patriarch
STATE GOVERNMENT:
Bulgaria is a parliamentary republic
VOLTAGE:
220 V only, you will need a standard round two-pin adapter available in the UK for powering equipment
CURRENCY:
Bulgarien Lev, fixed to the Euro (1 Euro = 1.96 Lev)