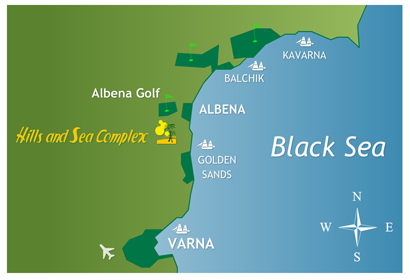 If you like to play golf, there is a great variety of golf courses to choose from. At five minutes walking distance from Hills and sea complex a proposed golf course will be build over surface of 500 decares between Albena resort, General Kantardjievo and Rogachevo village. The preliminary design is work of a French architect. The project will be implemented on three stages. The first stage forsees construction of training golf academy and will be realized in two years. In the second stage it will be transformed into a 9 hole golf course which will expand into 18 holes at the last stage.
Another three golf courses are at a close proximity (15 min. away driving north) from Hills and Sea Complex
- Lighthouse Golf Resort designed by the British professional golf player Ian Woodsman

- Thracian Cliffs is under construction

- Black Sea Rama Golf designed by the world-famous golf course designer and golf professional Garry Player.